Handwoven Jacquards
All these pieces are handwoven fabric. They are designed and woven by me using a jacquard loom. The source images that these are designed from are my own (except where otherwise noted). The pieces are wrap mounted over a wooden frame so they can be hung on the wall much like a picture would be.
Except where noted, the fabric is cotton warp and weft.
Click on any image for a larger version
Ferry Sunrise (55" x 23")
Early morning, waiting for the ferry in Anacortes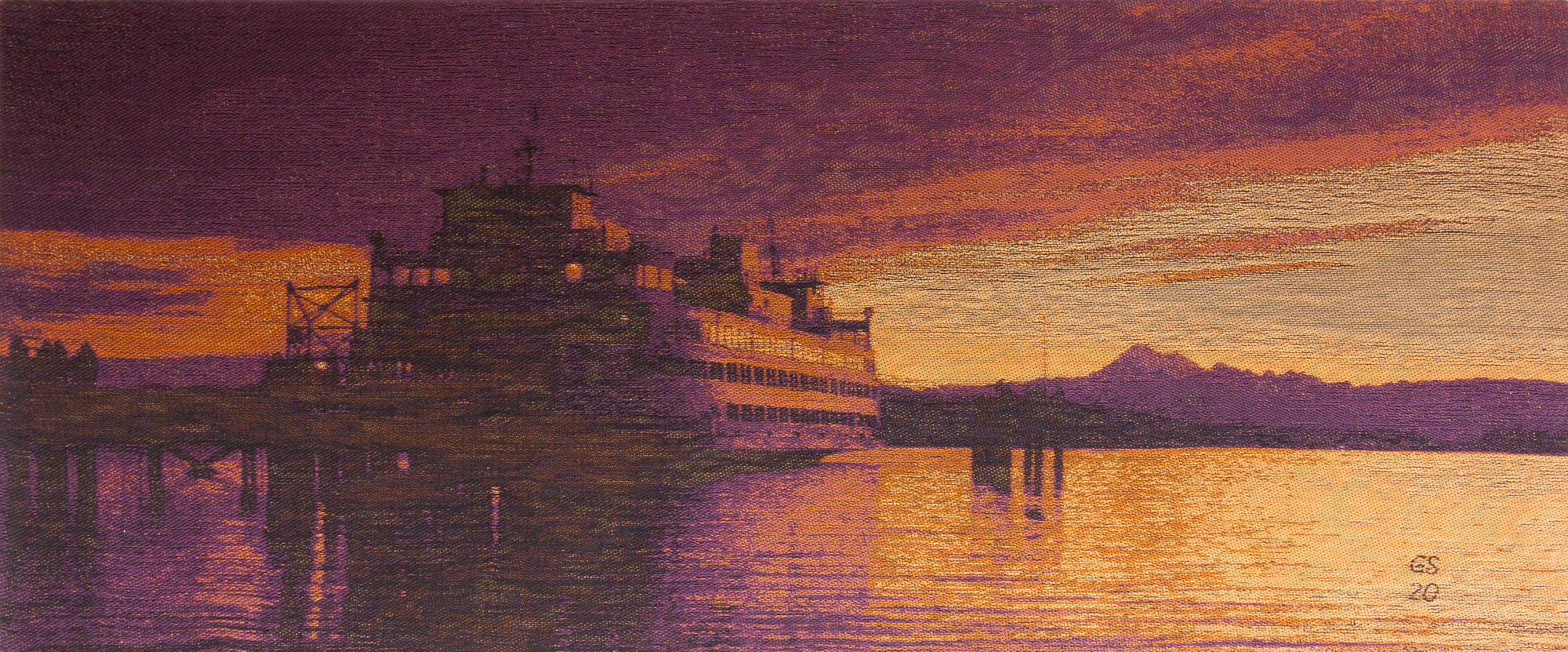 Ship Harbor Sunset (53" x 25")
While waiting for the ferry in Anacortes, I took a walk on the Guemes Channel Trail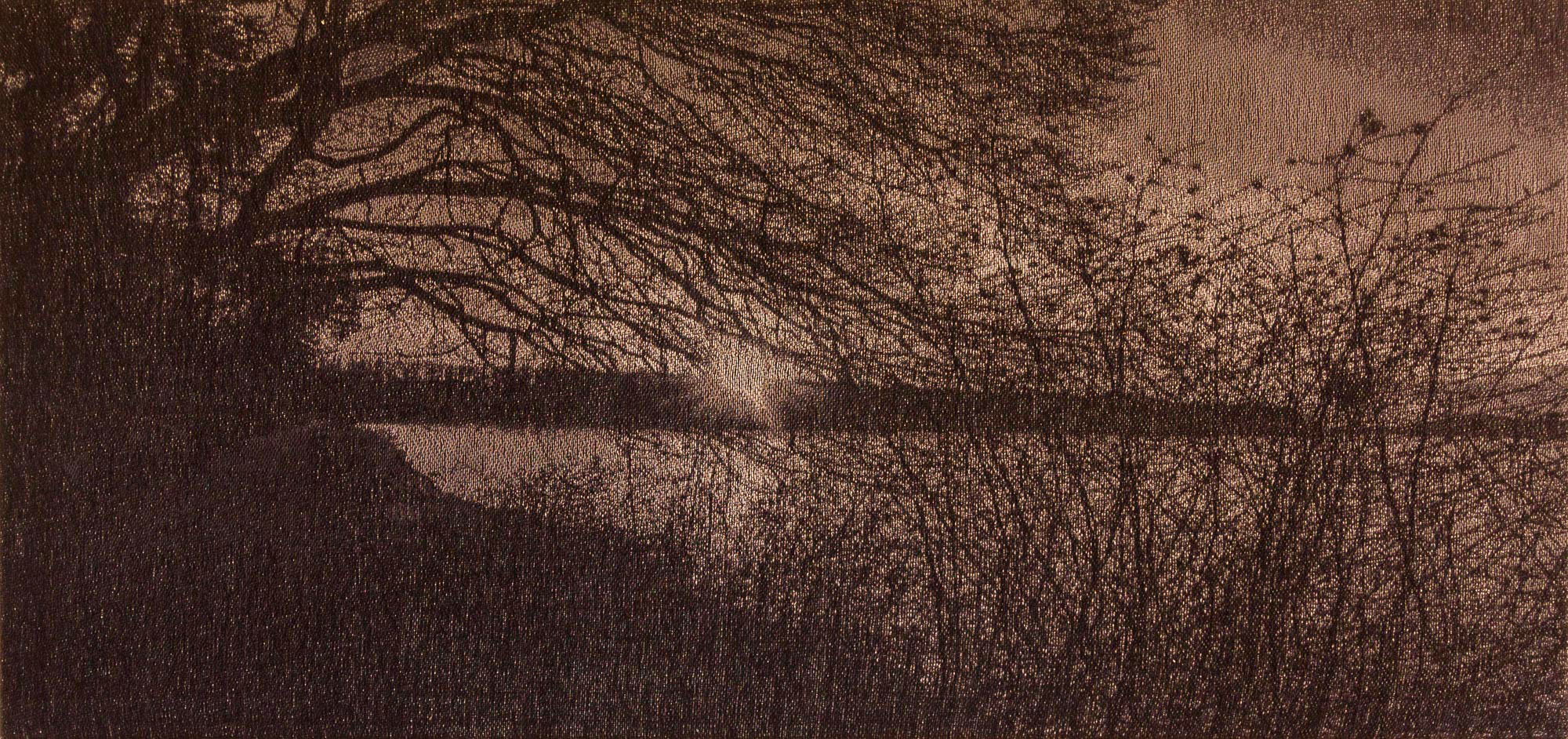 End Of The Road (48 1/2" x 25 1/2")
Mid winter somewhere in eastern Arizona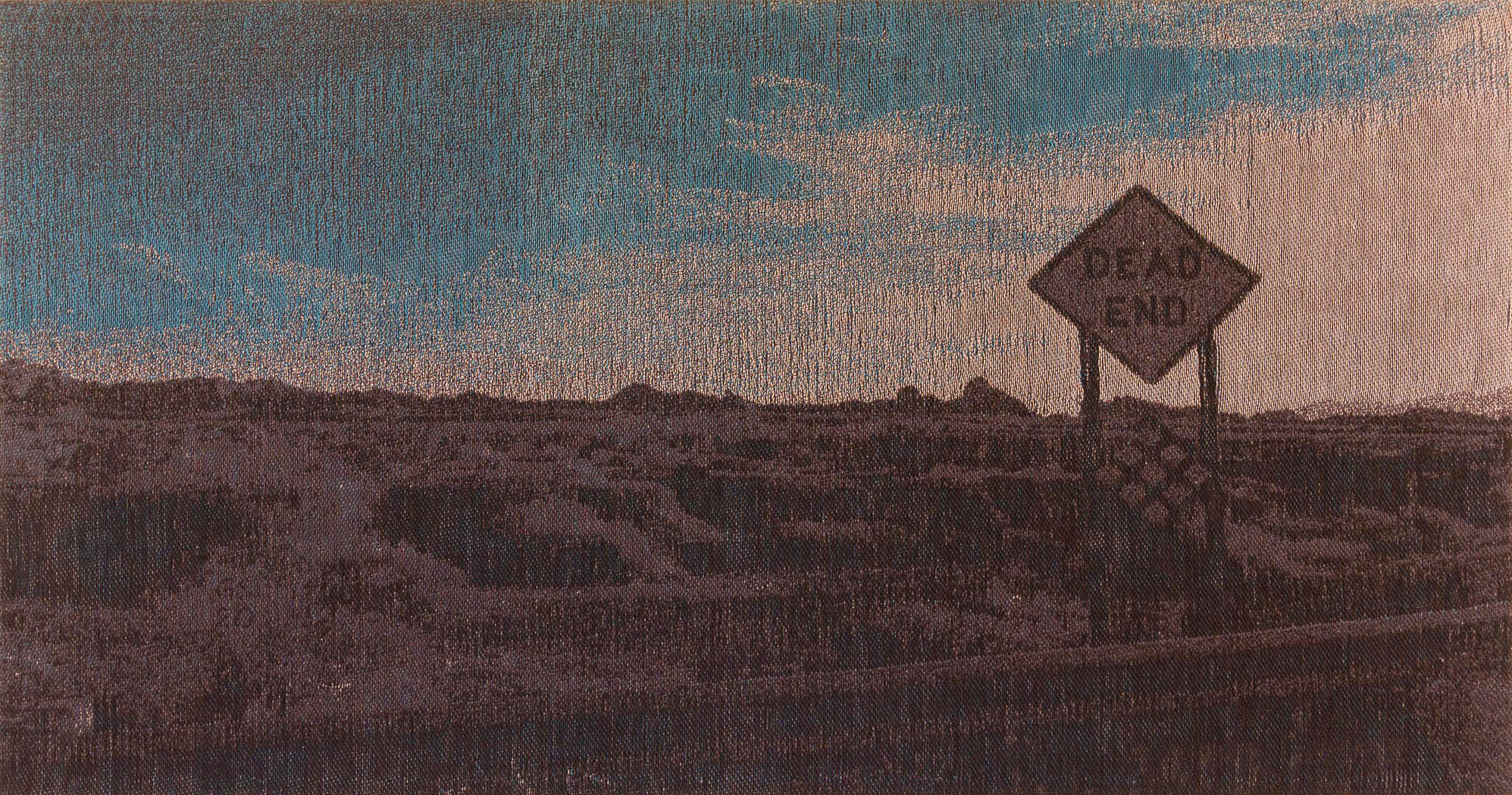 Slot Canyon (49 1/2" x 25")
From Arches National Park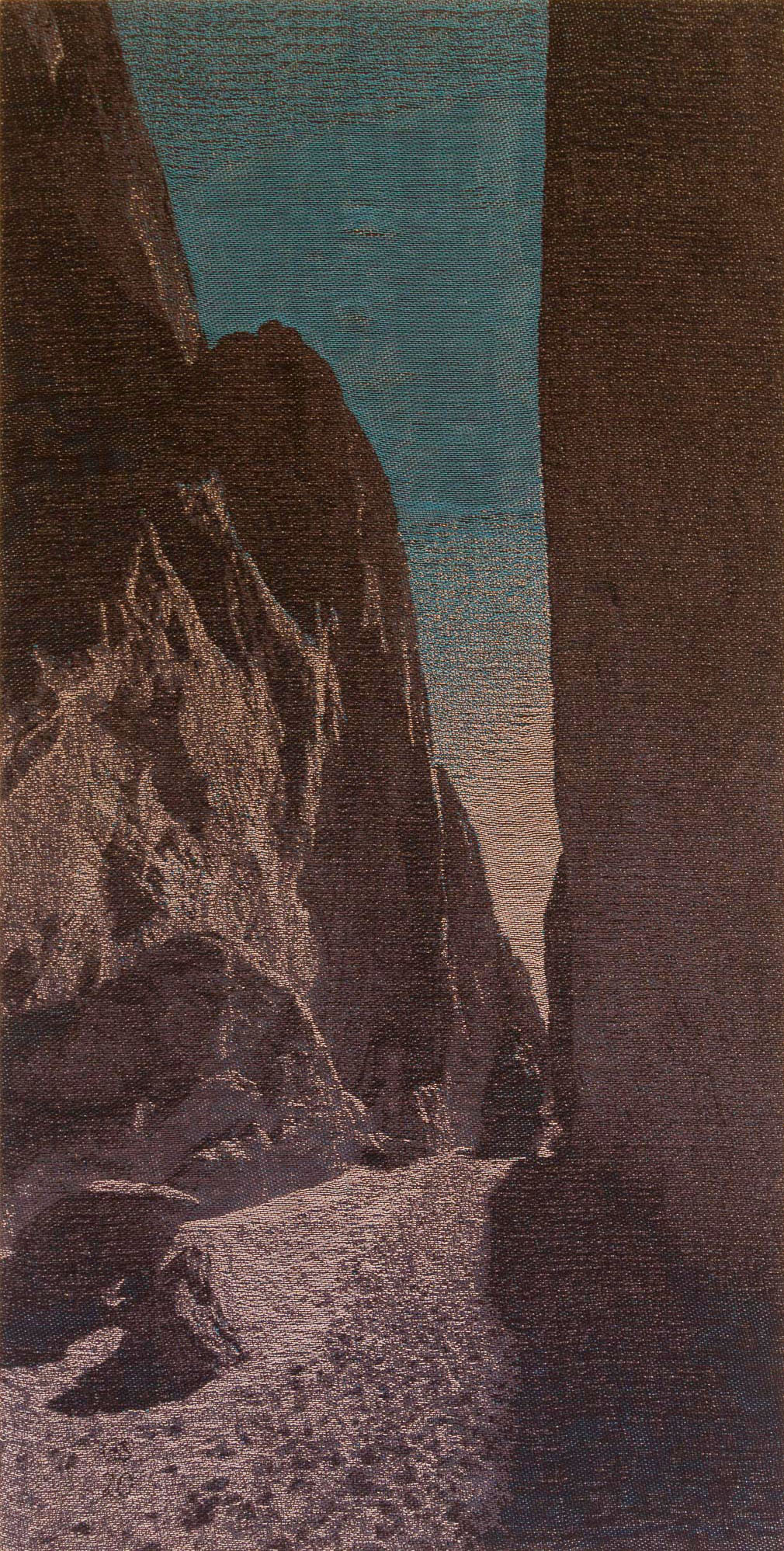 Roadside (53" x 28")
From a ski trail near Mazama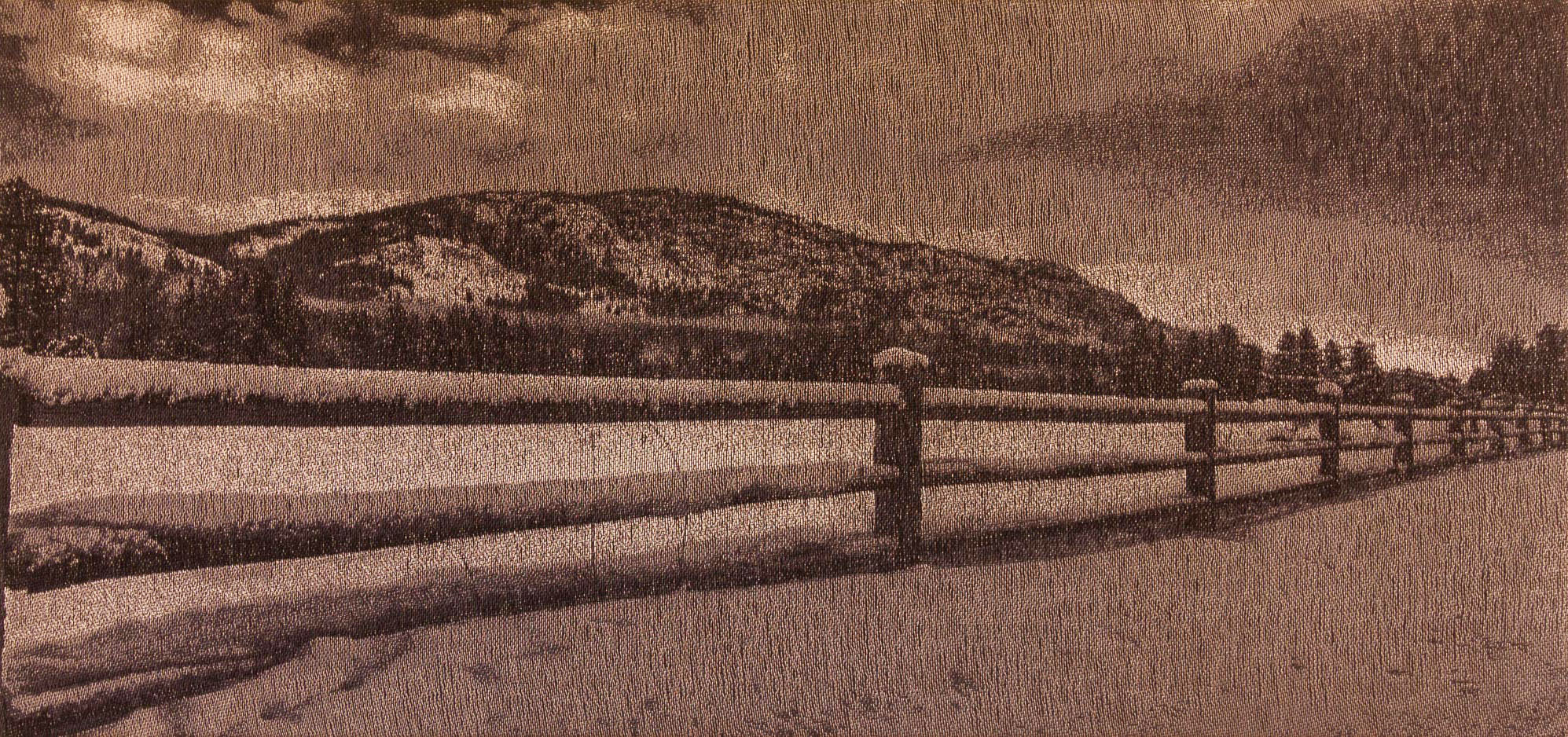 Early Rosario Sunrise (52 1/2" x 53 1/2")
The early morning light of mid-winter makes for some very nice sunrise images.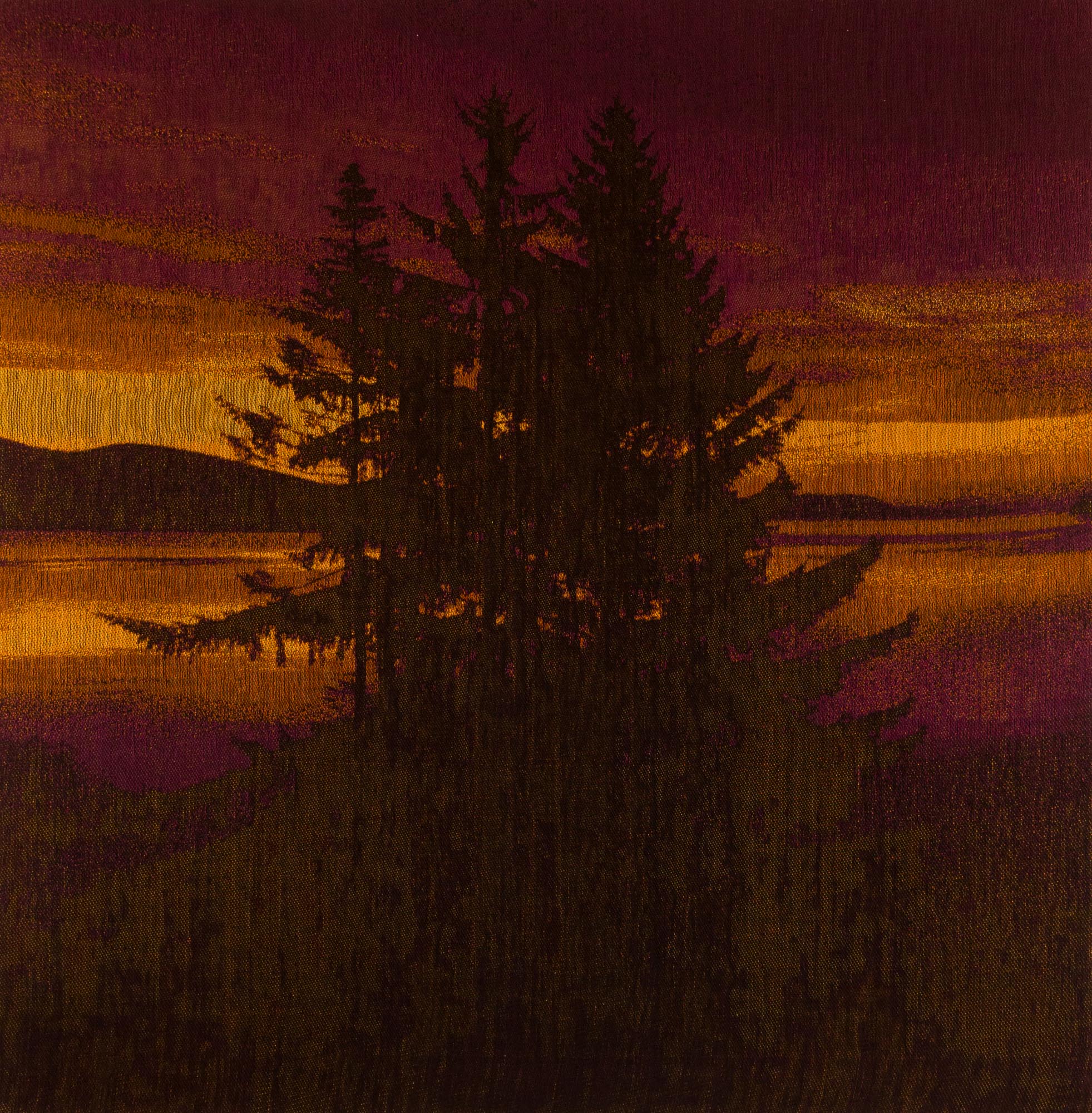 Double Arch (43 1/2" x 52 1/2")
One of the more iconic arches from Arches National Park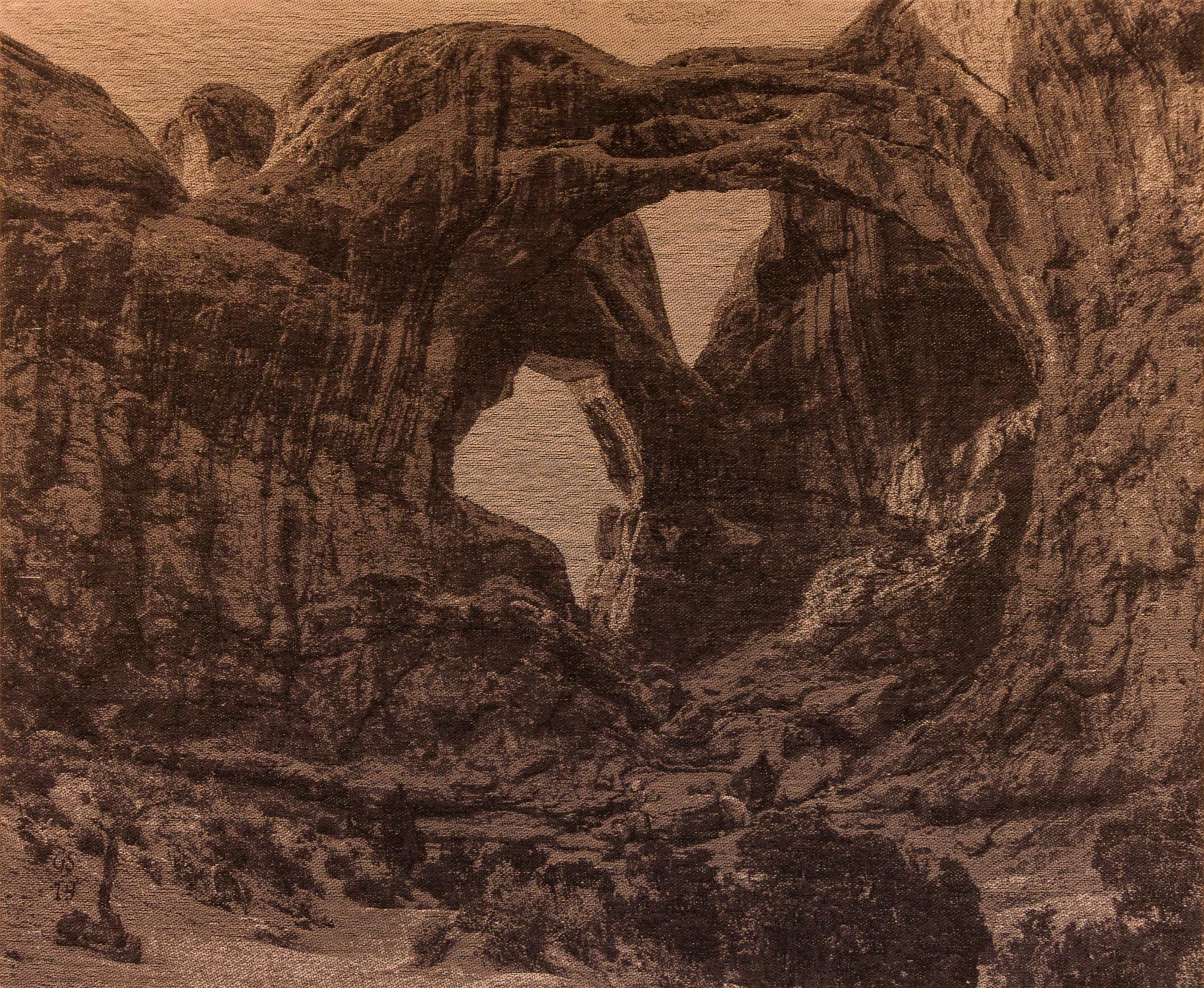 Mount Baker from Ship Harbor (30" x 53")
Waiting for a morning ferry in mid winter.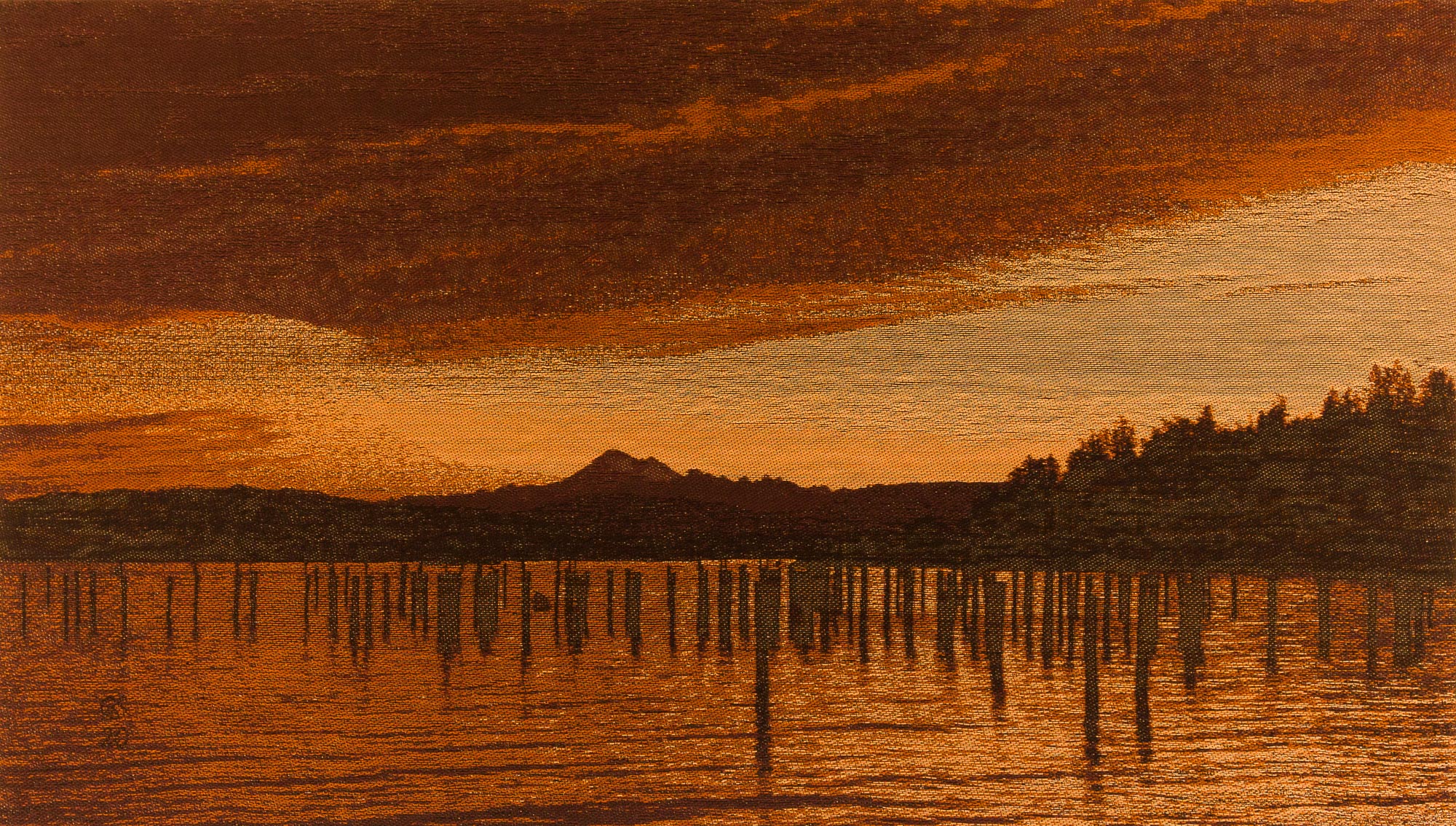 Gasworks Dark Night (29" x 53 1/2")
Gasworks Park in Seattle on a cloudy night.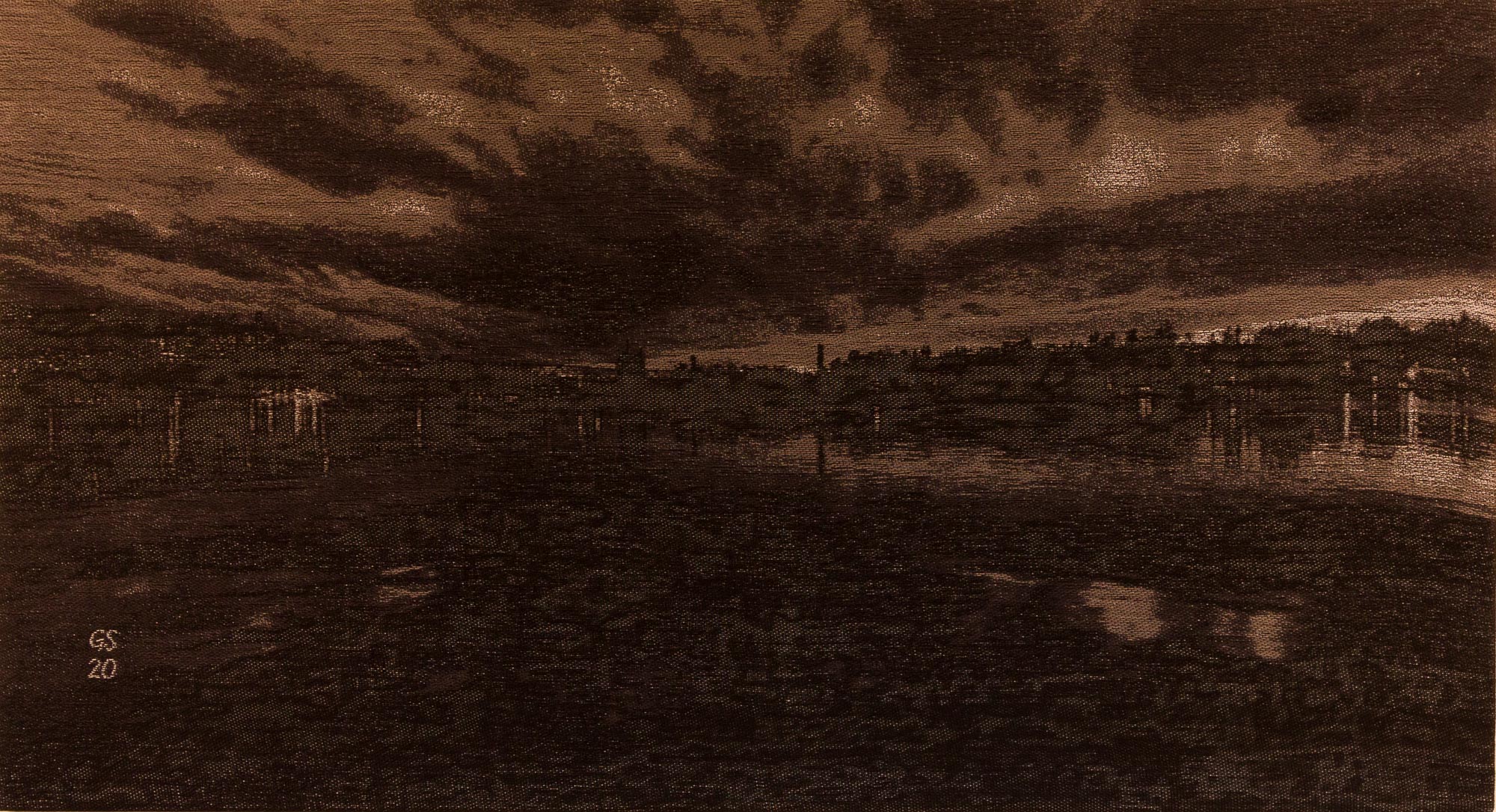 Utah Highway (27 1/2" x 53")
Somewhere near the Nevada Utah state line.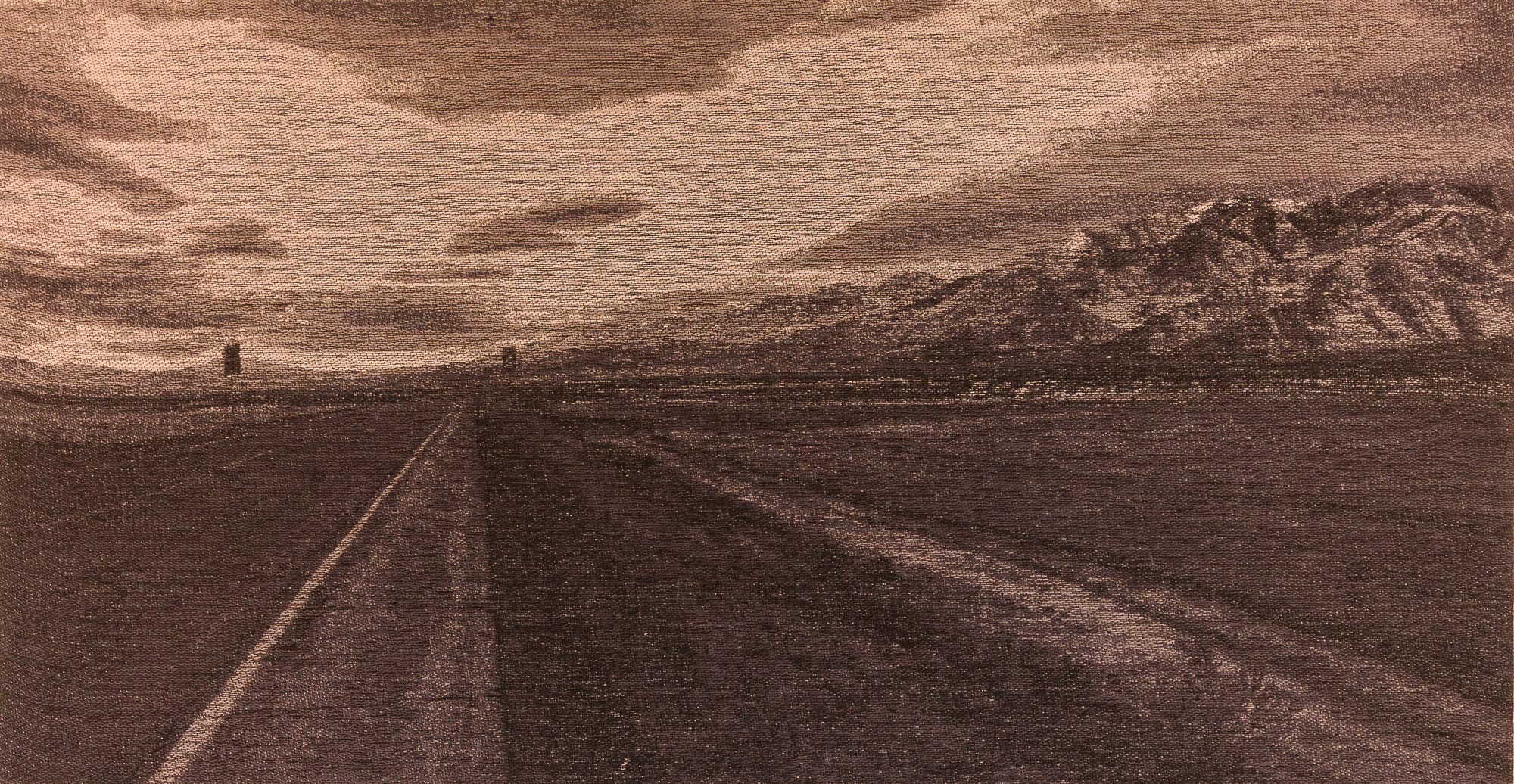 Clouds at Sunset (26 1/2" x 52 1/2")
A winter's sunset from the northern Methow Valley.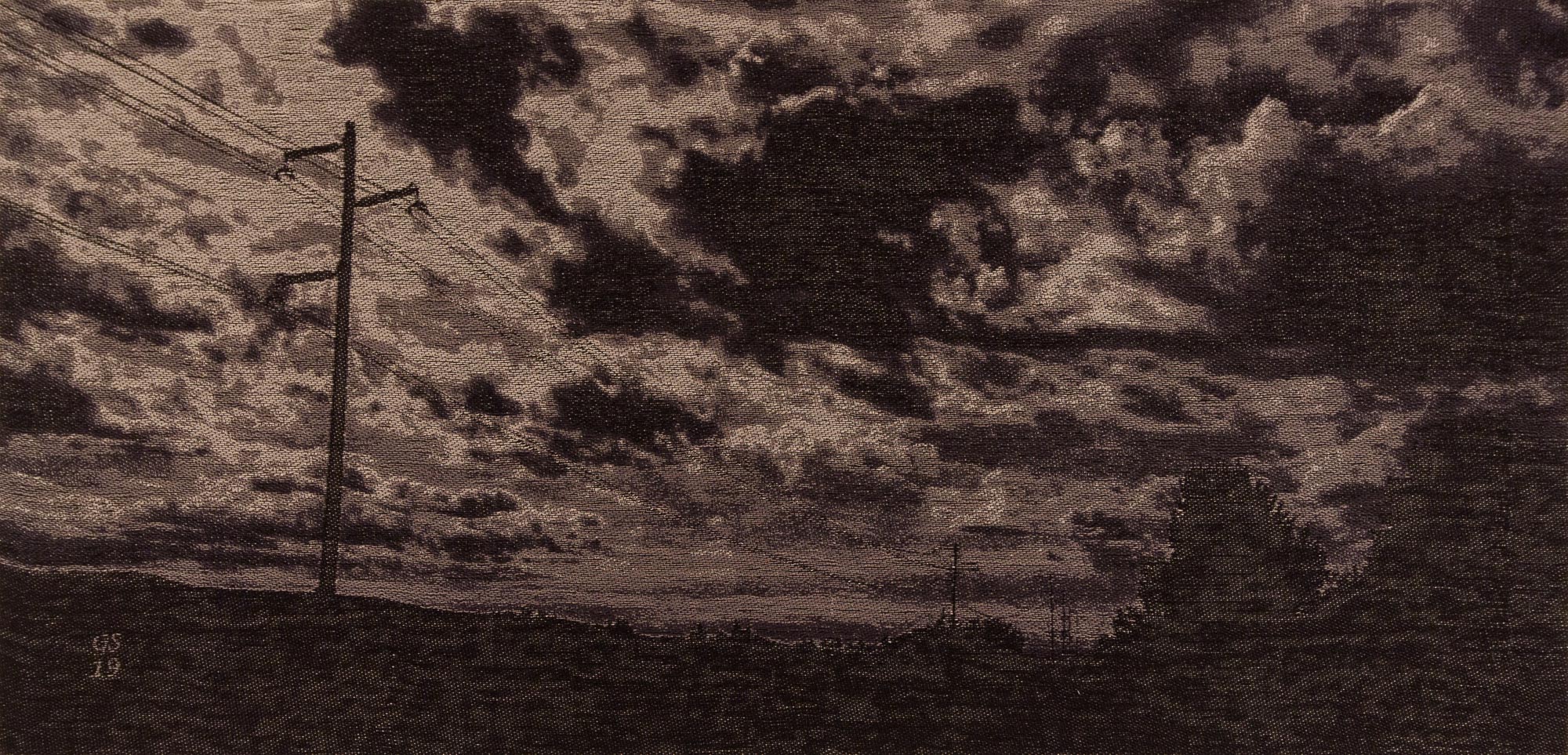 Mount Baker Sunrise (22" x 53")
I've used this image for many years on shawls, but never in a mounted piece. Mt. Baker Sunrise from Rosario Strait.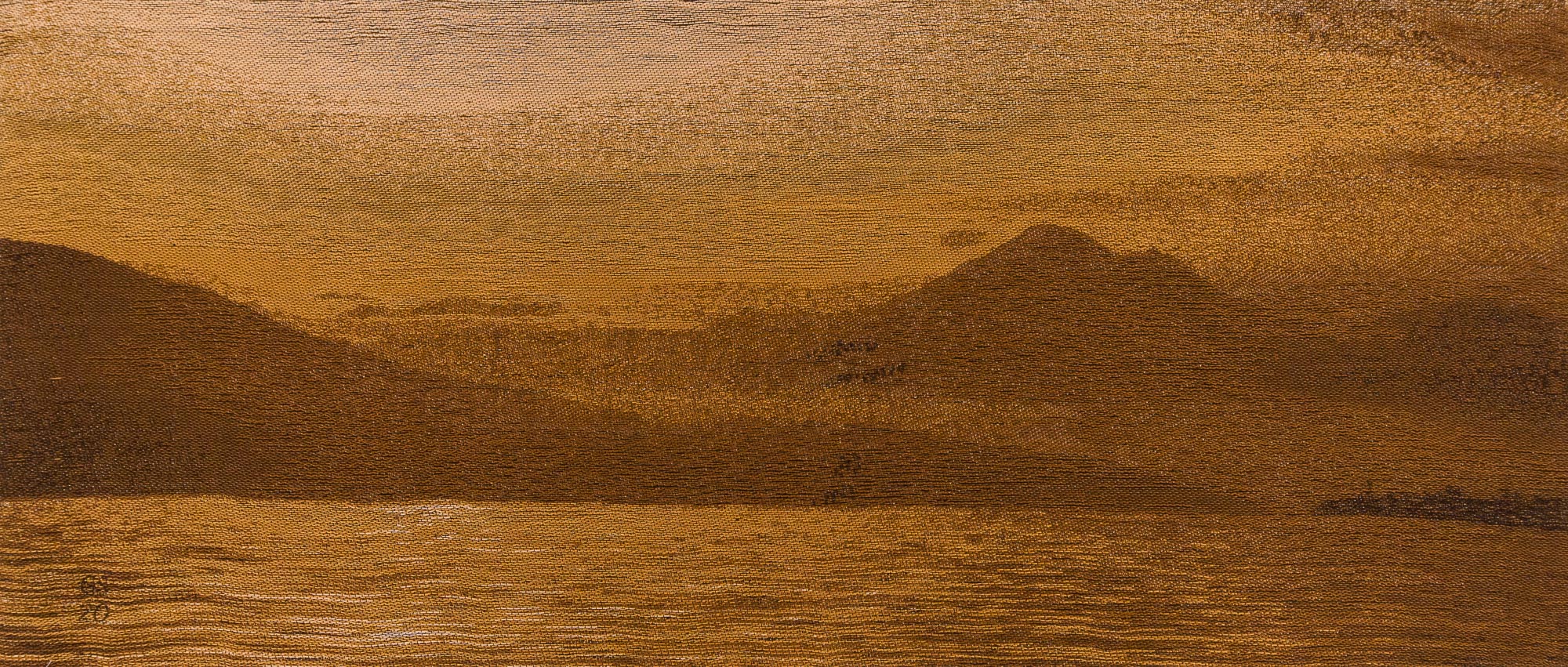 Space Needle (58" x 42 1/2")
A recent commission of the iconic Seattle Space Needle. Source Photo Credit: Wynand van Poortvliet, via Unsplash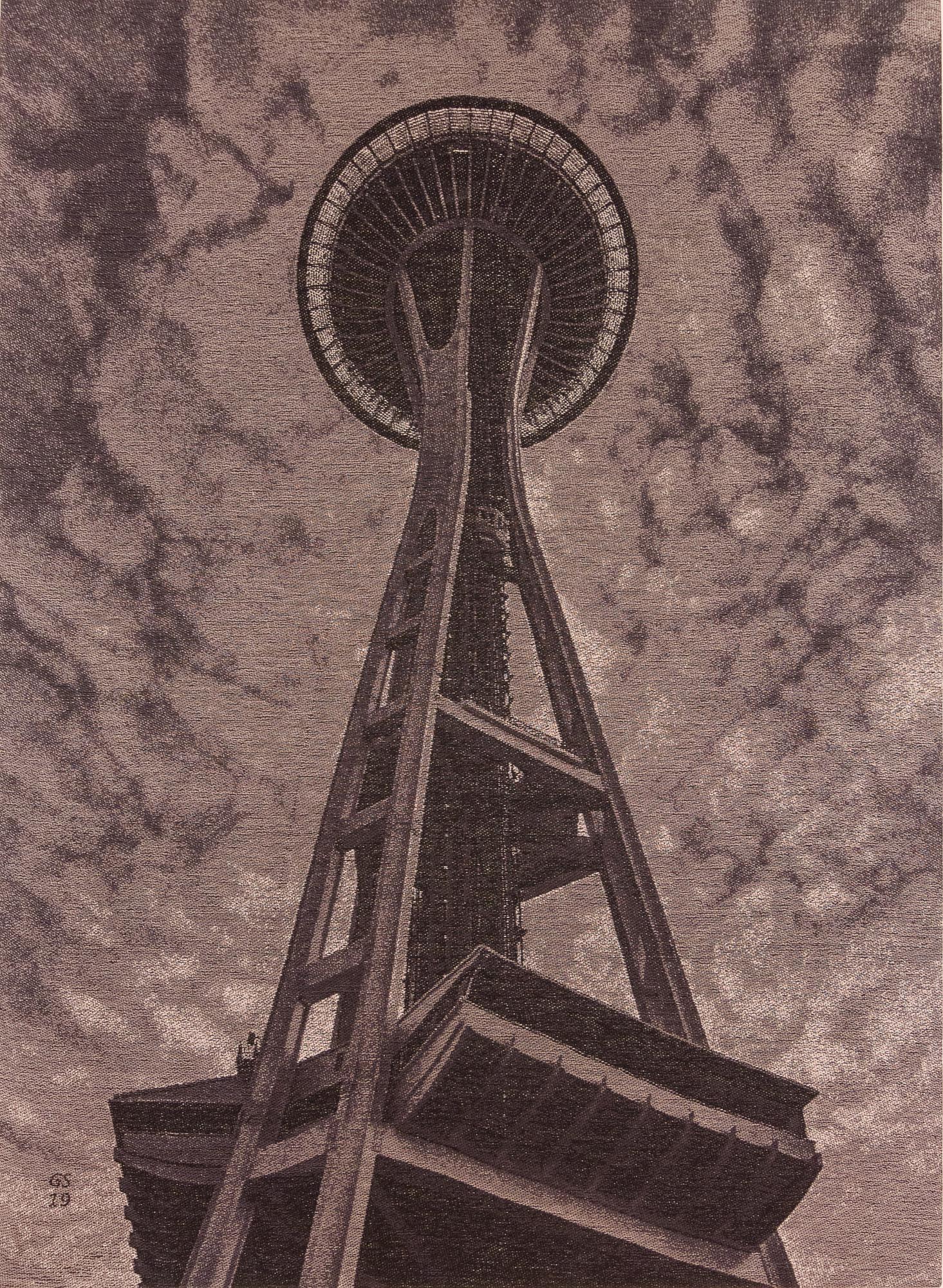 Fireworks and Boat (57" x 52")
This is the scene at Fisherman's Bay on Lopez Island on the 4th of July. Source Photo Credit: Ken Machtley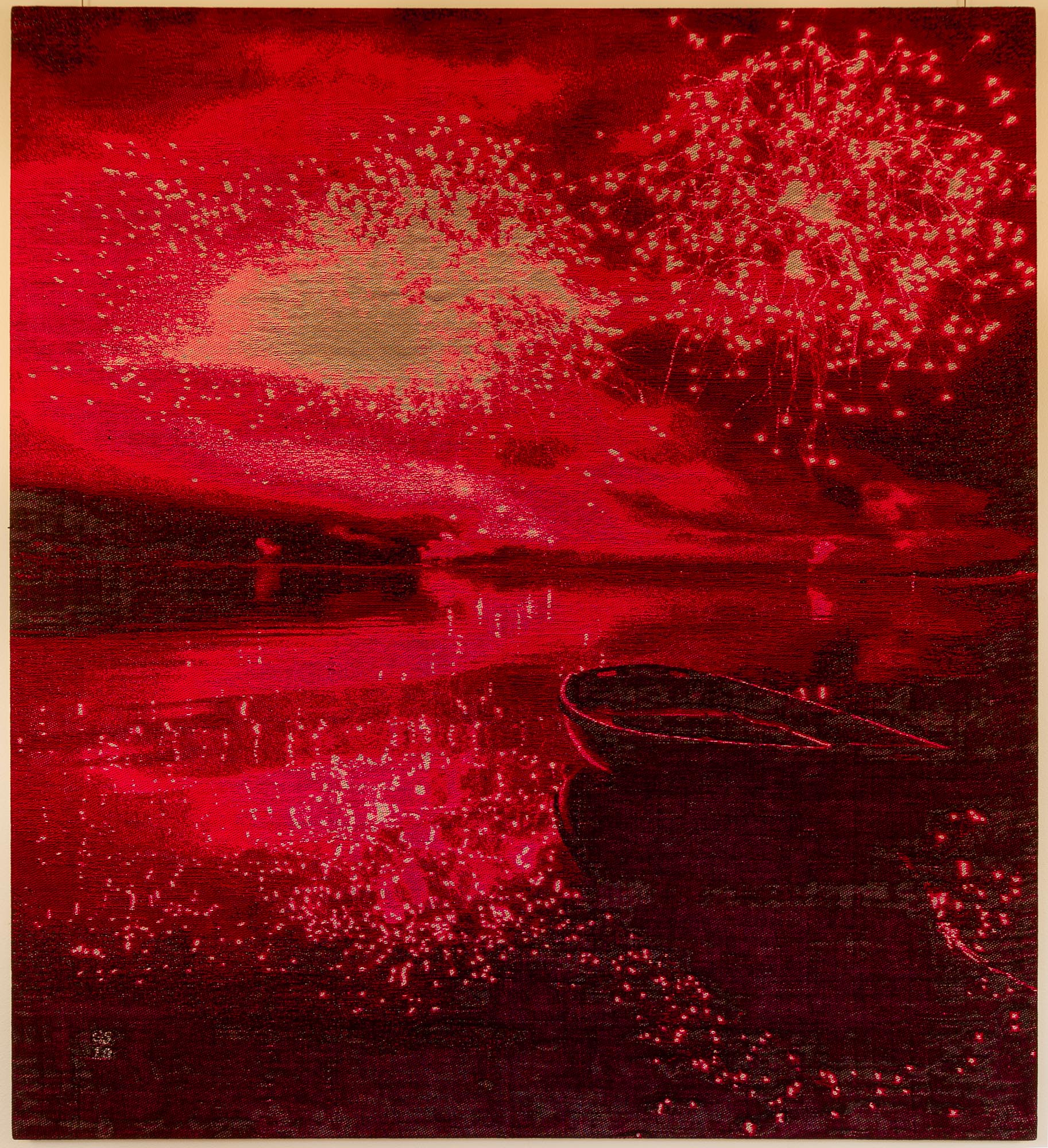 Winthrop Suspension Bridge (50 1/4" x 26")
This suspension bridge is Winthrop WA is for foot traffic only. It makes a pretty spectacular outline against a setting sun in winter.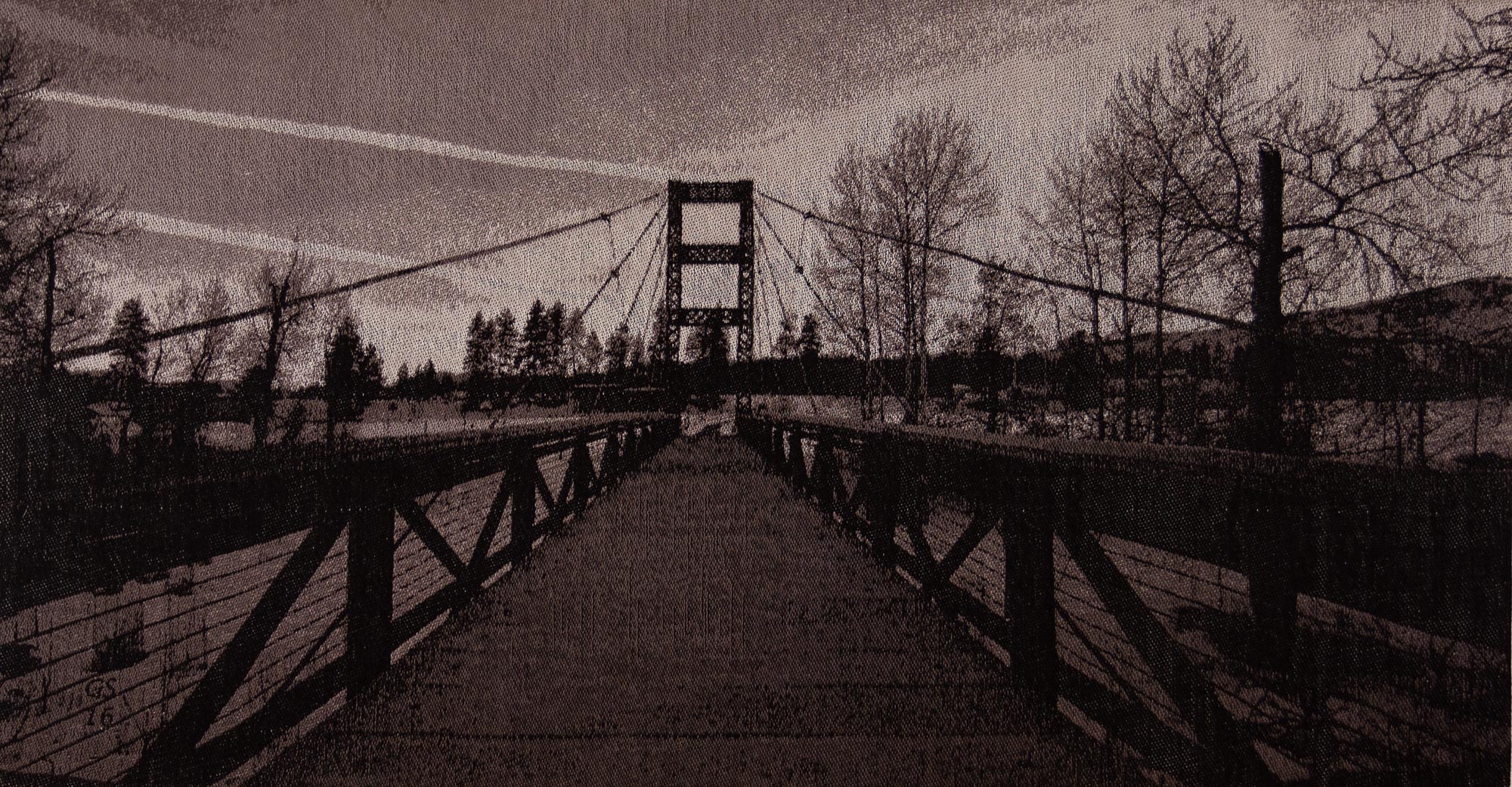 Idaho Bridge (47 14" x 24")
While on my road bike in Northern Idaho a few years back, I came accross this wooden decked bridge.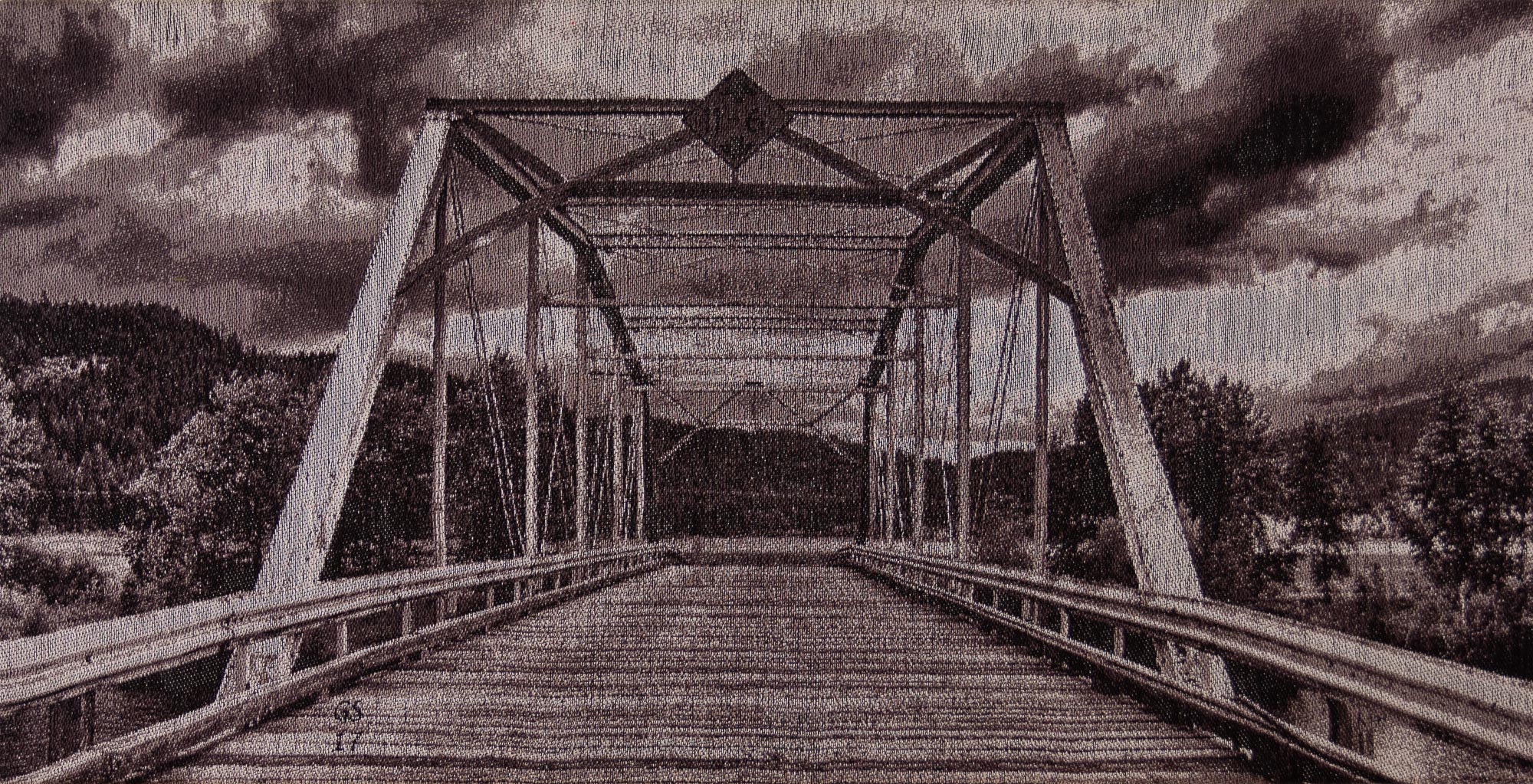 Railroad Grade (44 3/4" x 26")
During a trip to northern Idaho a few years back, I came accross this scene where a single plant was growing in the middle of an old railroad. I tried to capture the contrast of the green plant against the stack background of the ballast rocks.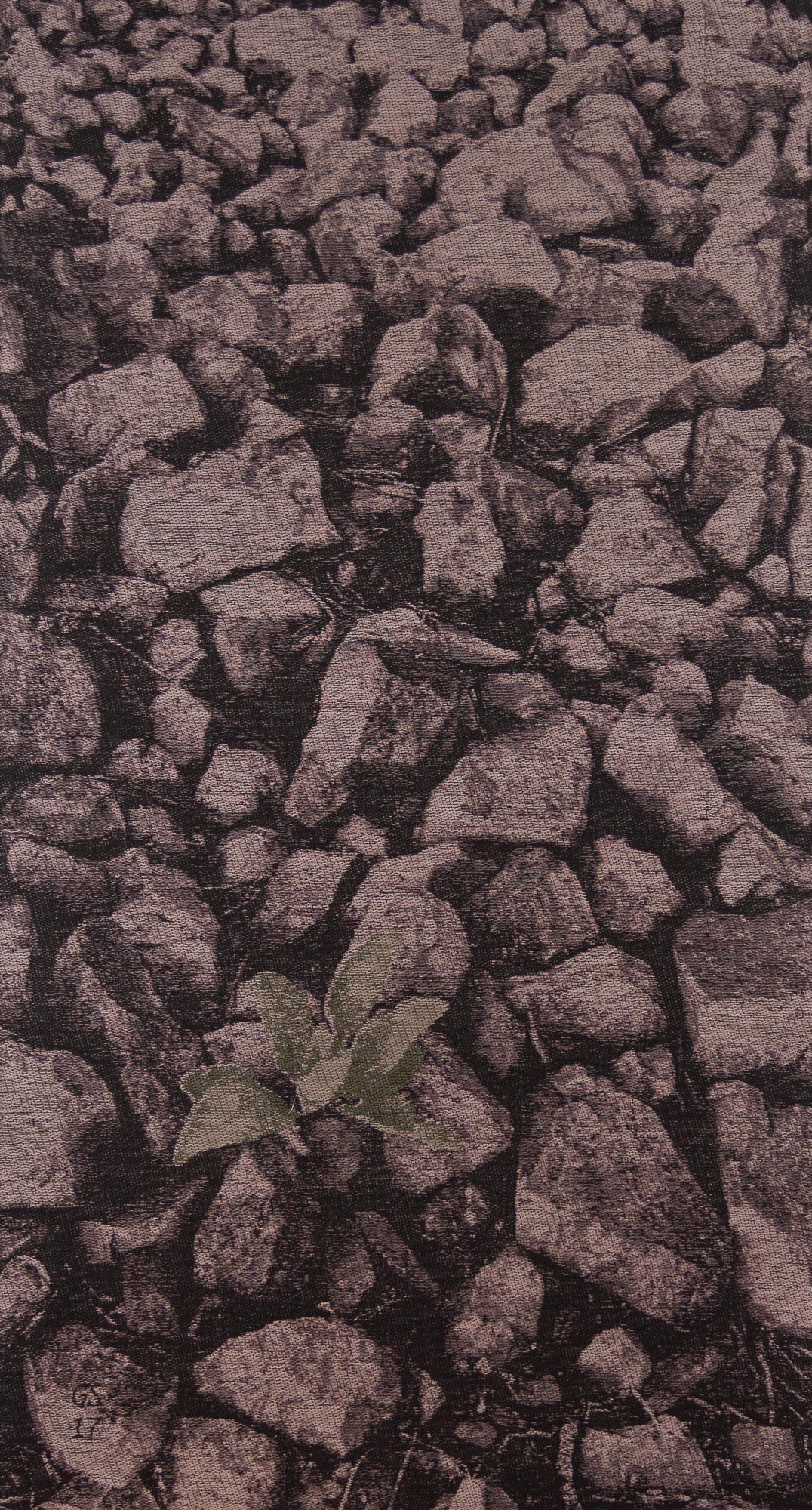 Pueblo Alto (44 3/4" x 26")
Pueblo Alto is located on the mesa above Chaco Canyon in New Mexico. This image was from a trip there several years ago late in the year.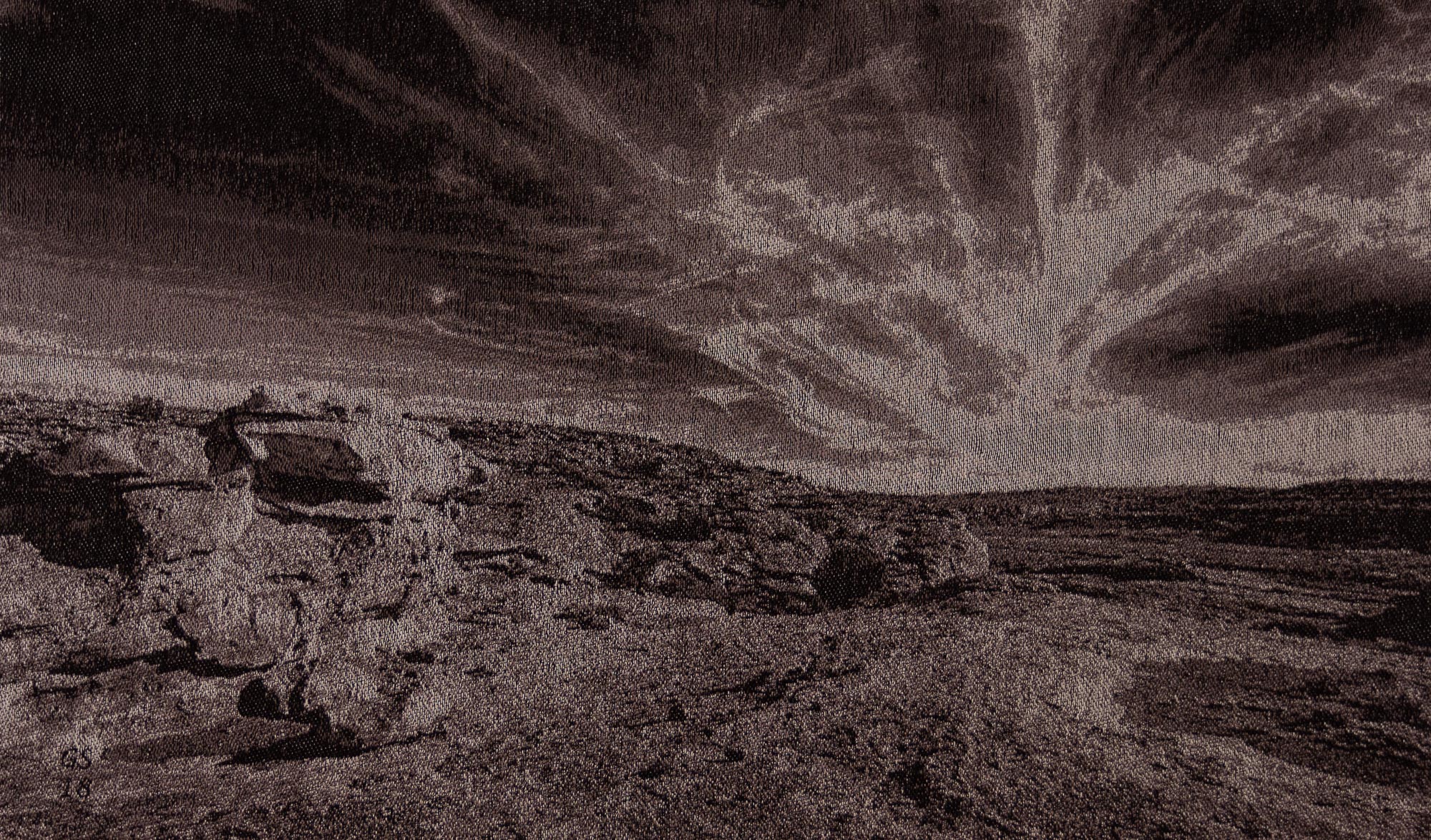 Mount Siple (50" x 26")
Mount Siple is a shield volcano is located on an island off the Getz Ice Shelf in Antarctica. The original image was taken by my colleague Jason Gobat on research cruise in January 2018.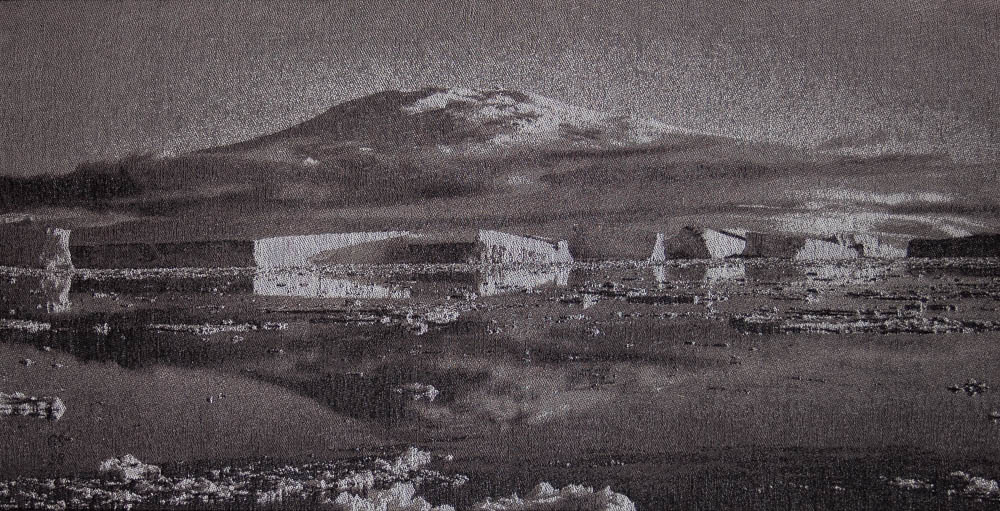 Snow Pine (27 " x 48")
I found this tree standing apart from others in Rendezvous between Mazama and Winthrop WA a few winters ago.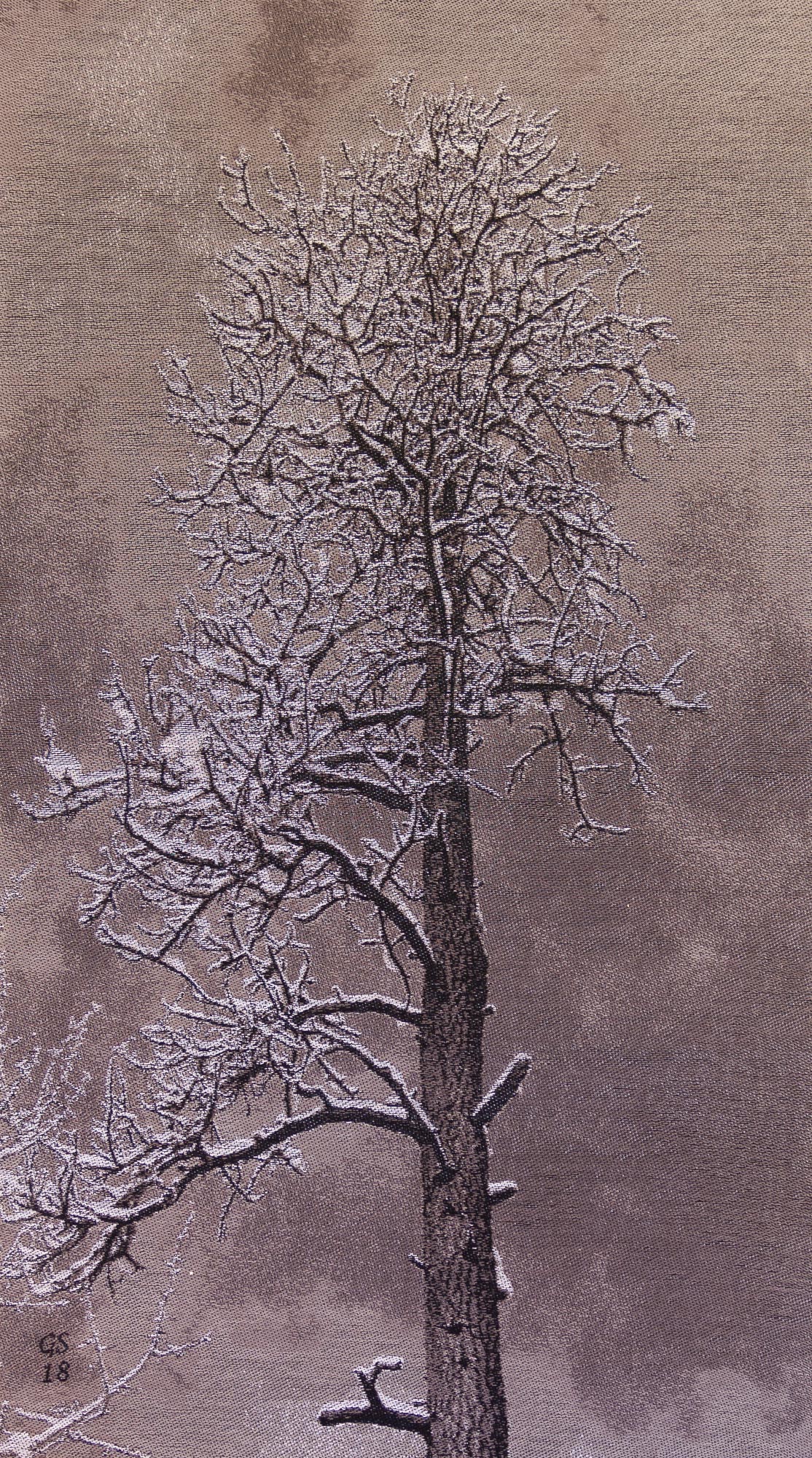 Water On Sand (27 " x 45")
The Washington coast beaches are quite flat and made up of fine dark sand and mud. Everytime the tide retreats, it leaves the these great channels cut into the sand.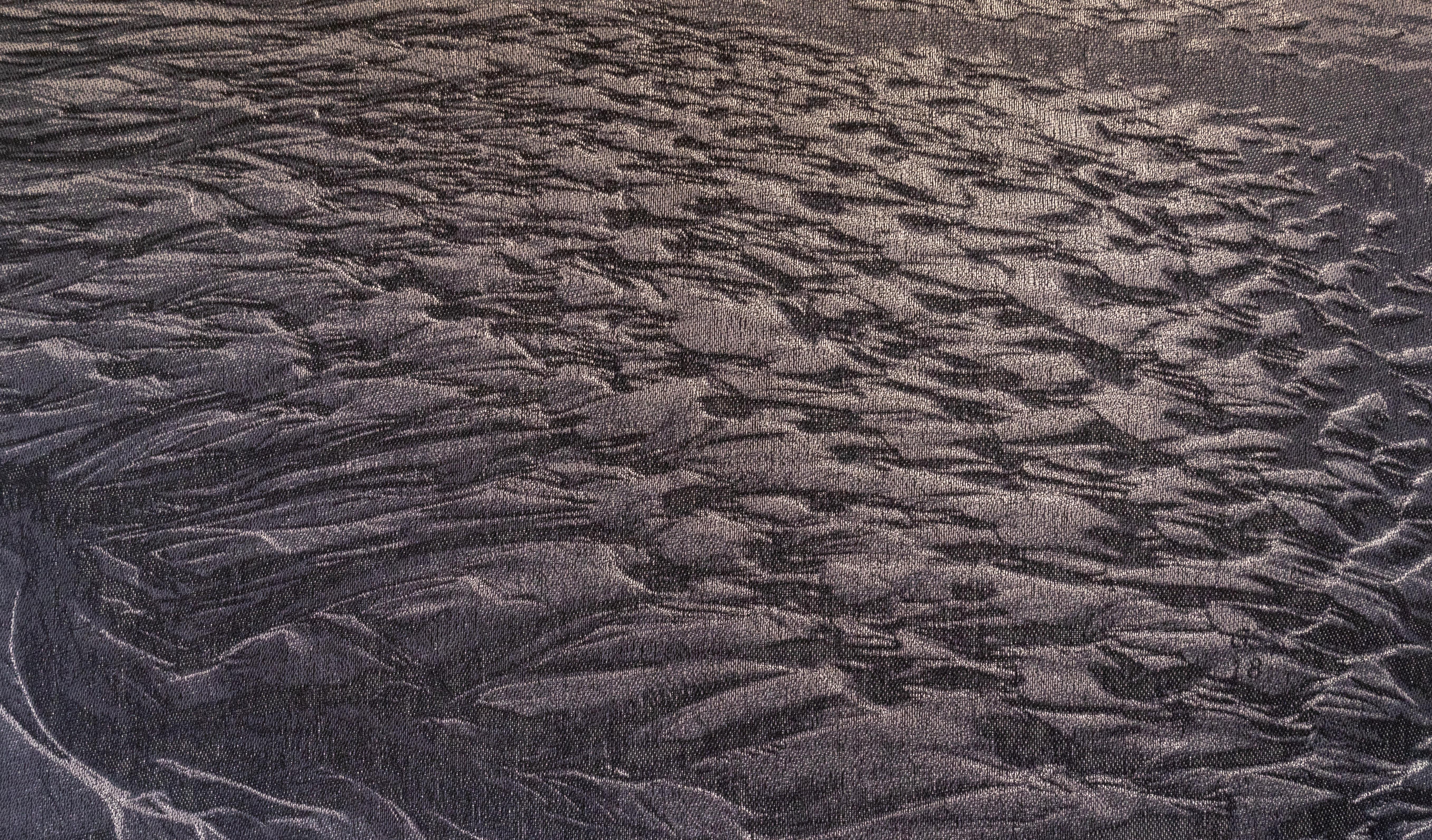 River to Sea (27 " x 38")
The Washington coast features has many of these rivers running over the beach to the sea, but few with quite such a dramatic backdrop.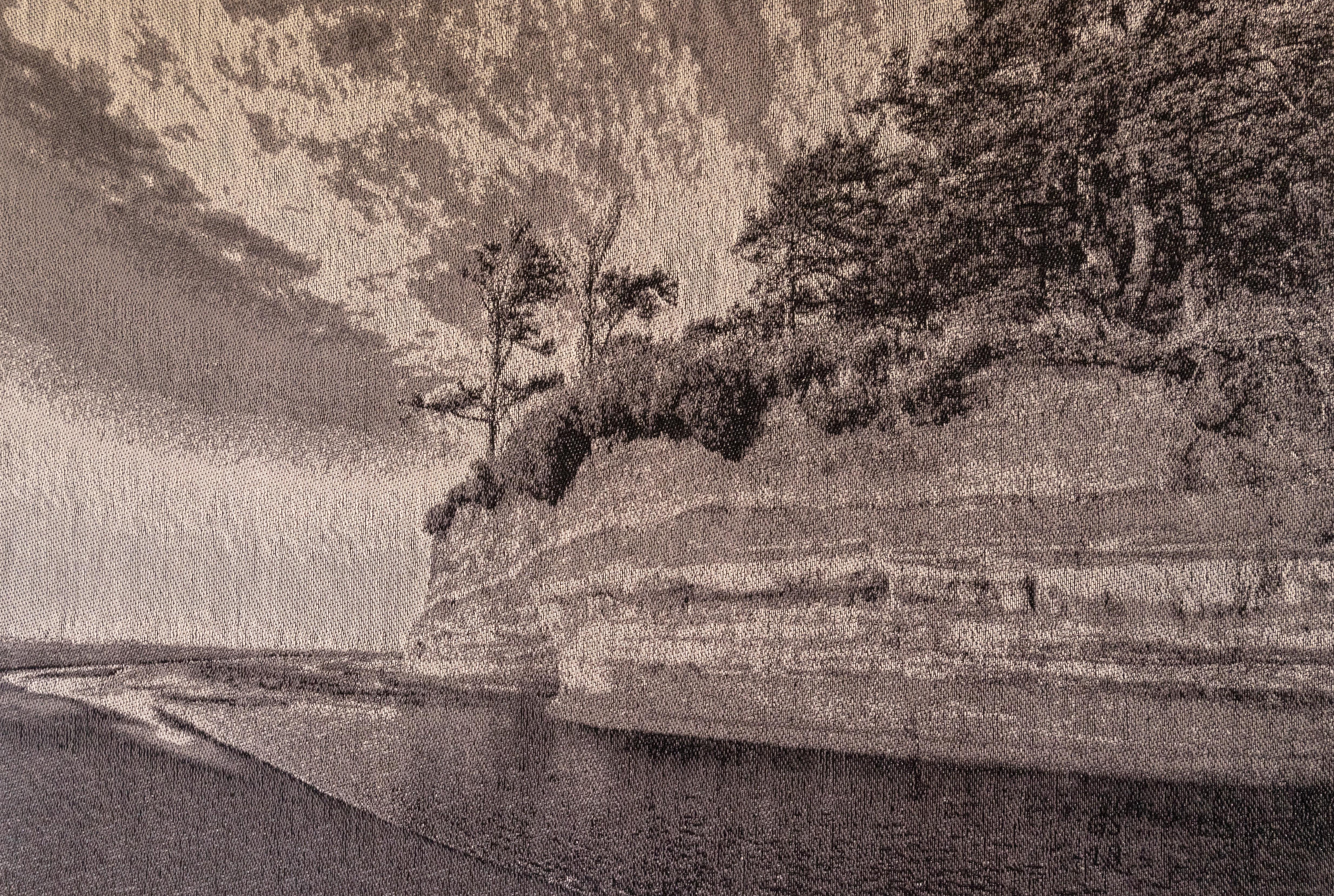 Water On Stones (27" x 44")
While riding my road bike along the Twisp River, I stopped off for a break and found the scene with stones covered by the river with shadows of the trees on river.
Great Blue Heron (27 1/2" x 28")
I found this guy working the shoreline at Shilshole in Seattle.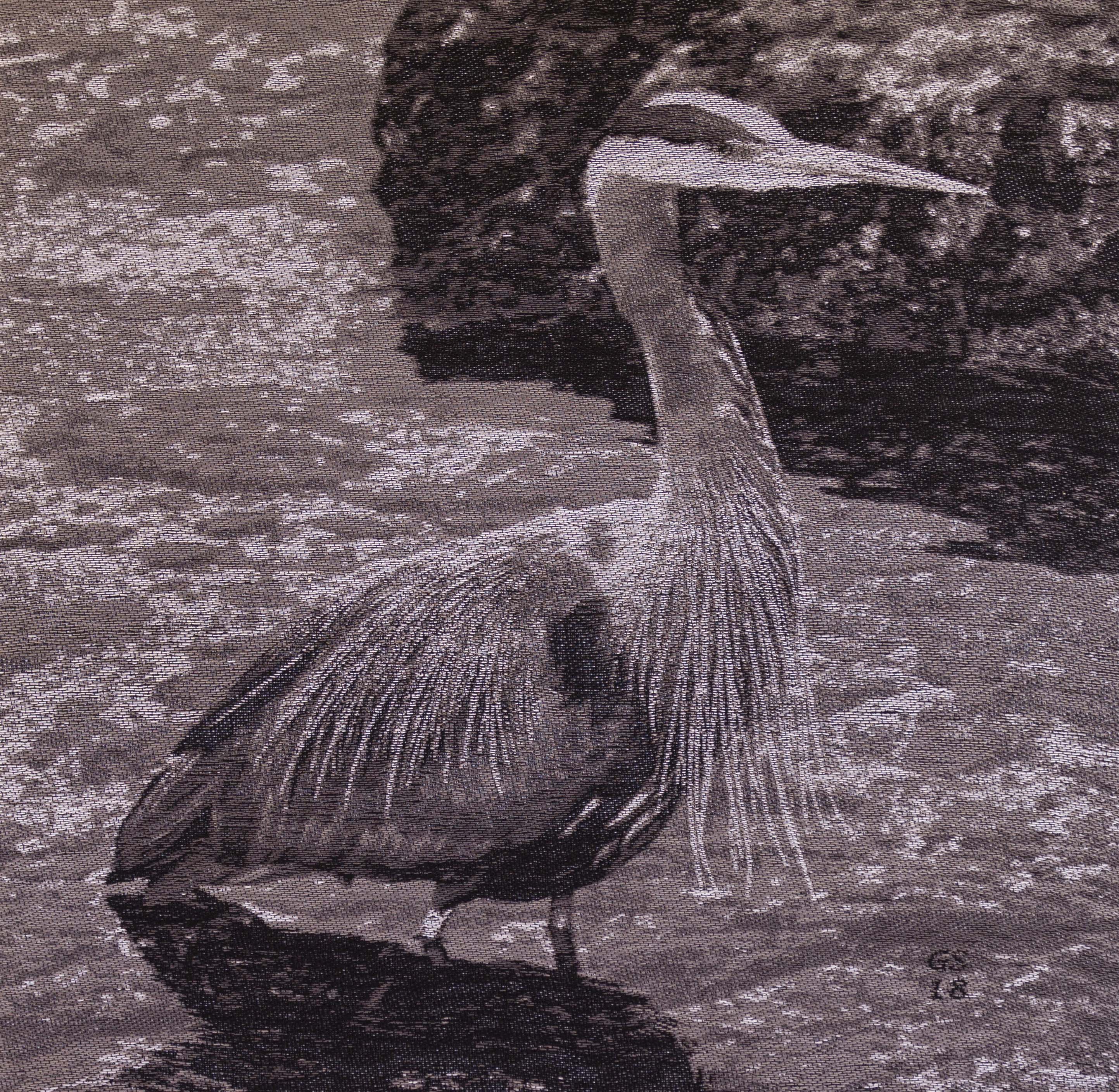 Hummingbird (17" x 27")
Given how fast hummingbirds move, it is always a challenge to capture just the right image. This guy was willing for cooperate…for a little while.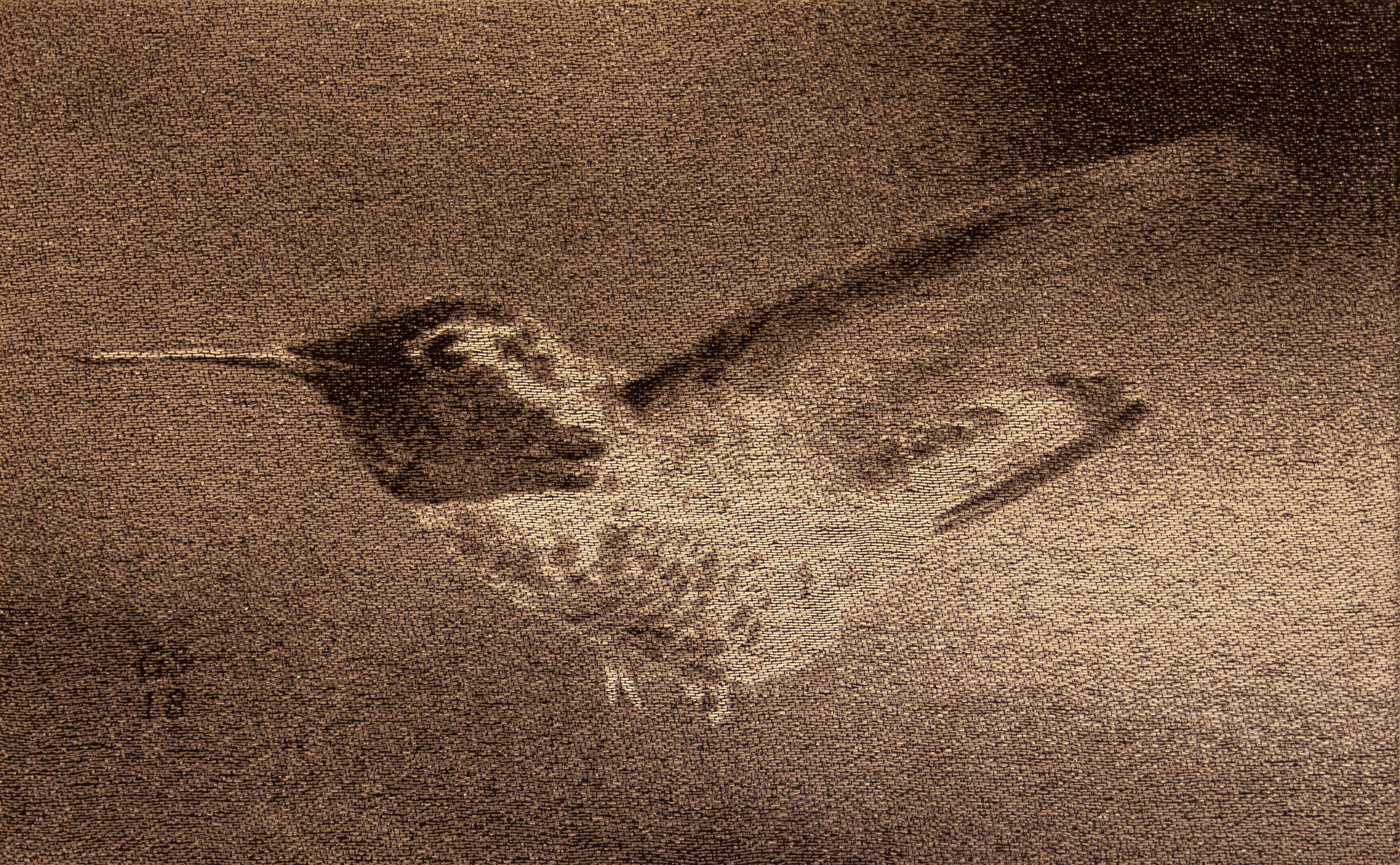 Near the Methow (24" x 40")
Another of the many woodland scenes that I've encountered skiing in the Methow Valley. This one is close to the suspension bridge near Mazama.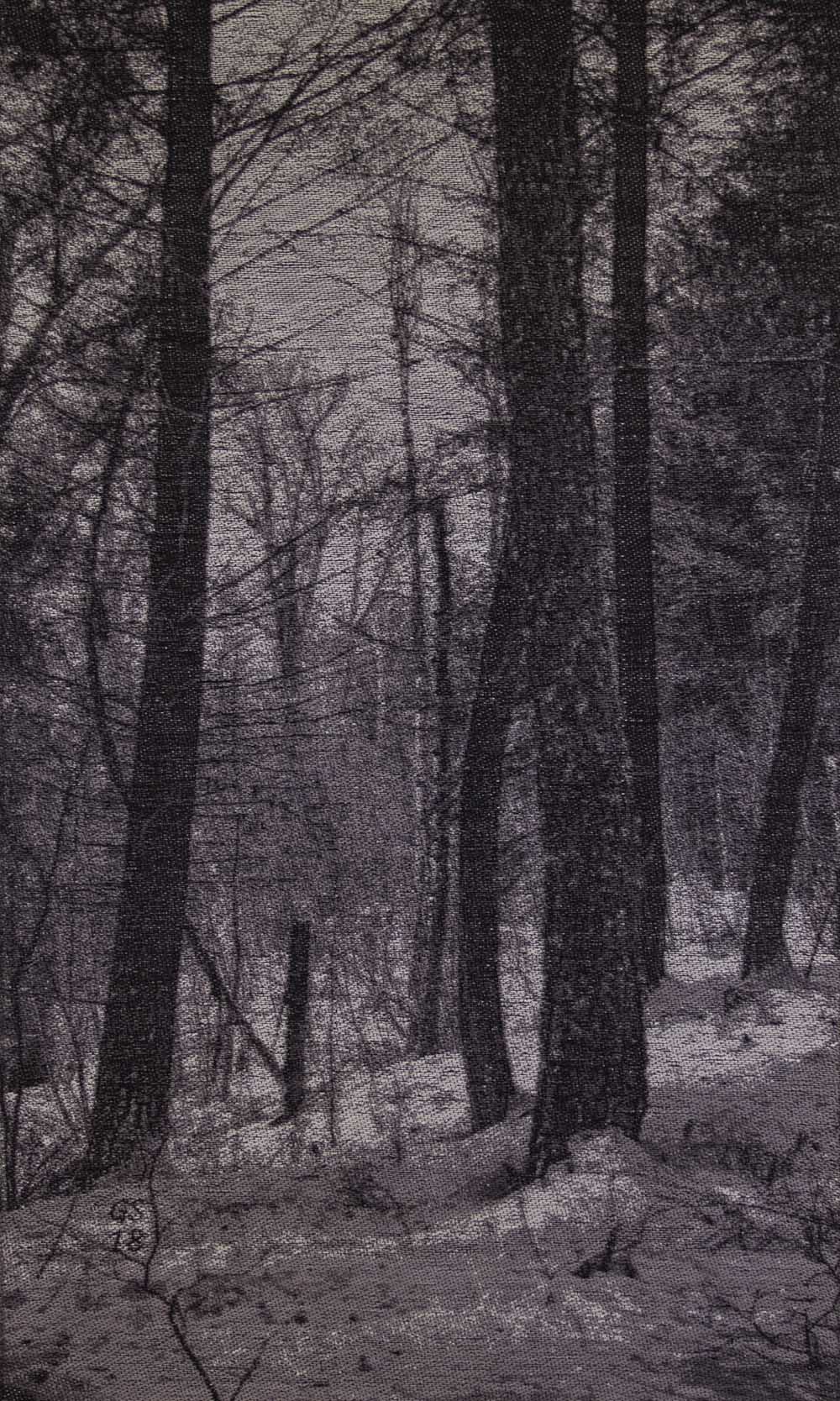 Reflections 7 (24" x 40 1/2")
I've always found reflections made on water mesmerizing. This one is from a walk along Lake Union in Seattle.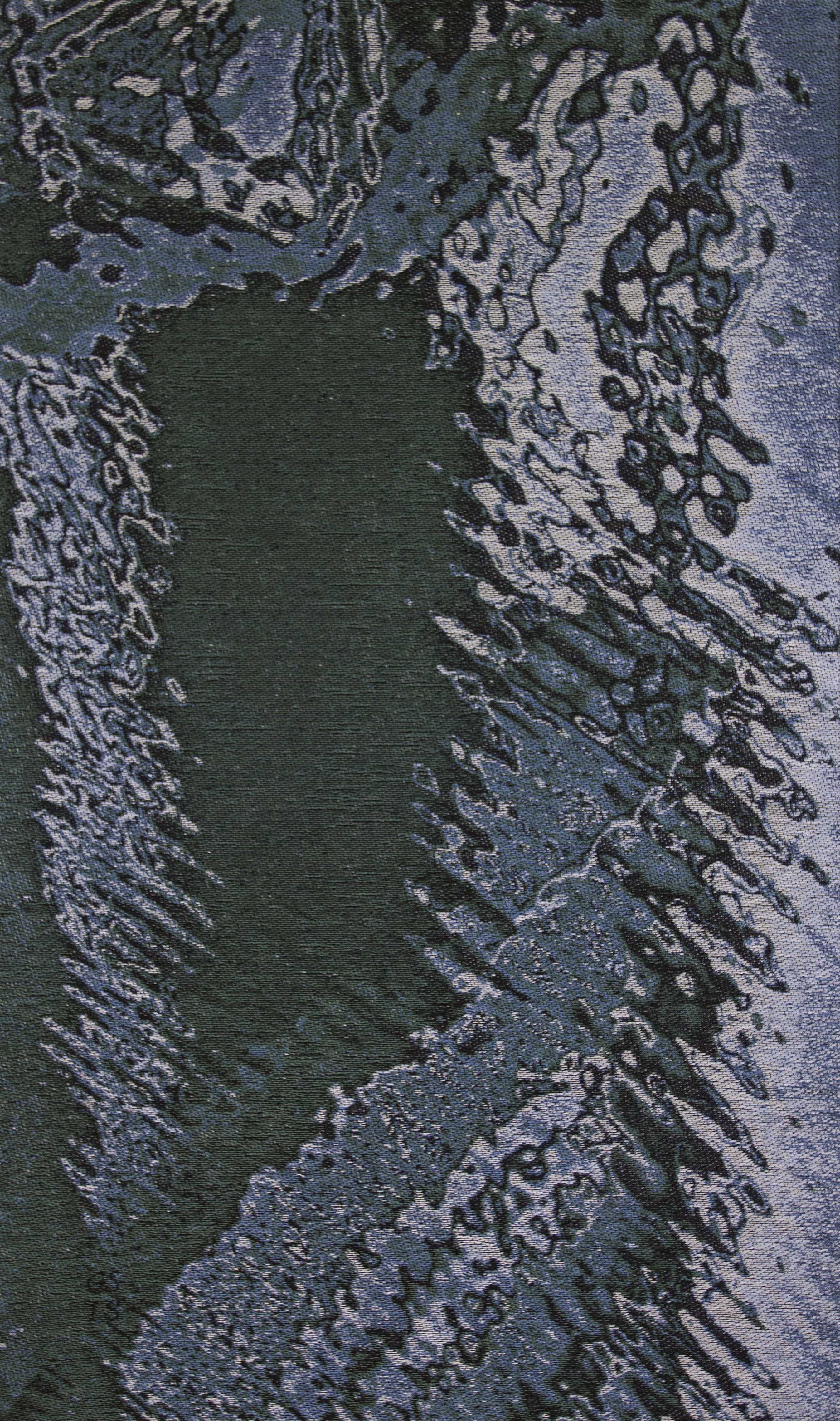 Reflections 8 (24" x 36")
Another from a recent walk near Seattle's Lake Union.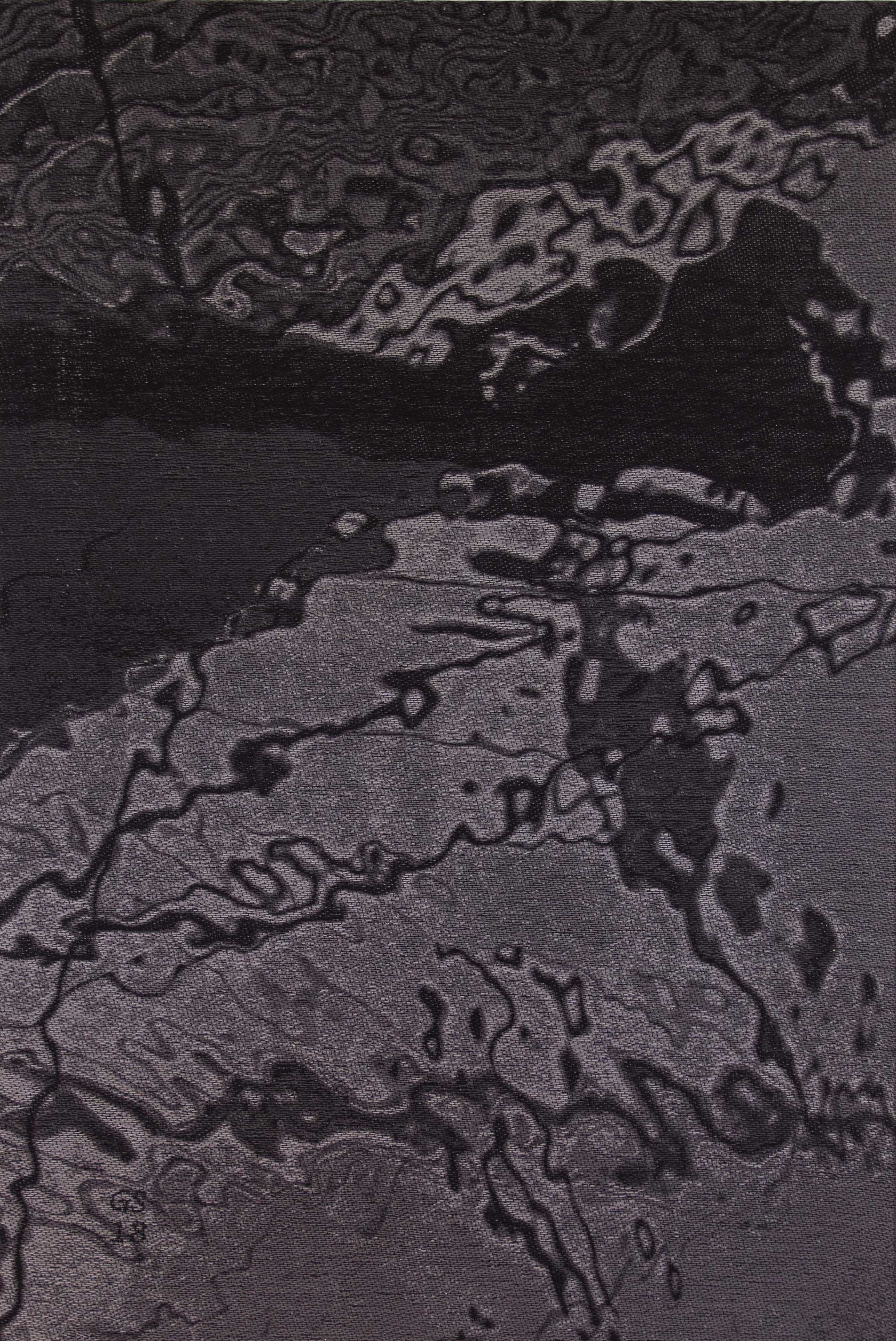 Andrew Creek (27 1/2" x 36 1/2")
After riding to the end of the pavement on the Chewack Road (out of Winthrop WA), I encountered this bridge over Andrew Creek. I really like the the hard angles of the bridge framing the water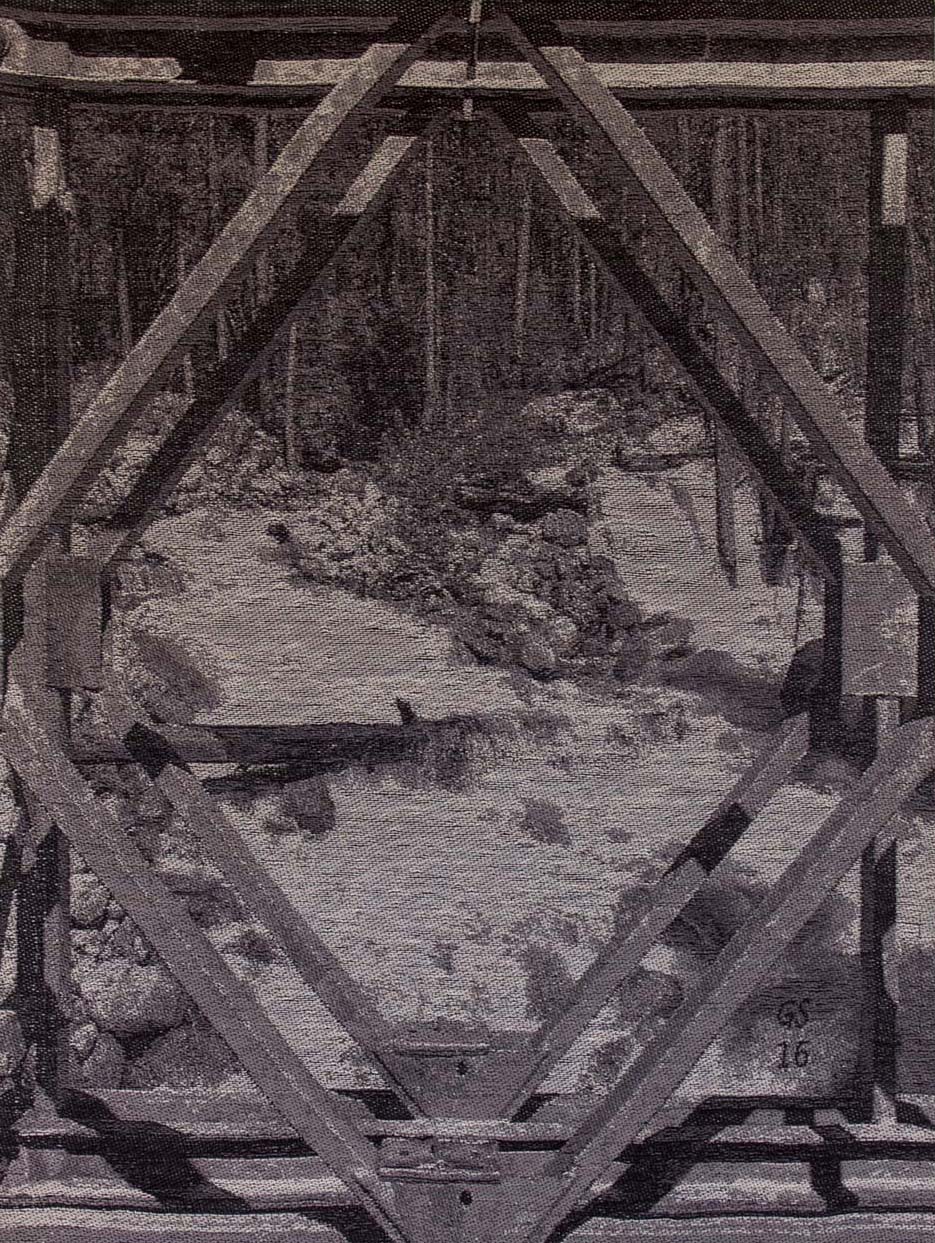 Chickadee Morning (27 1/4" x 51 3/4")
The Chickadee trailhead just outside Winthrop WA is a great place to go for cross country skiing. On this particular morning, the wind was knocking a lot of snow out of the trees, giving the light a really interesting character.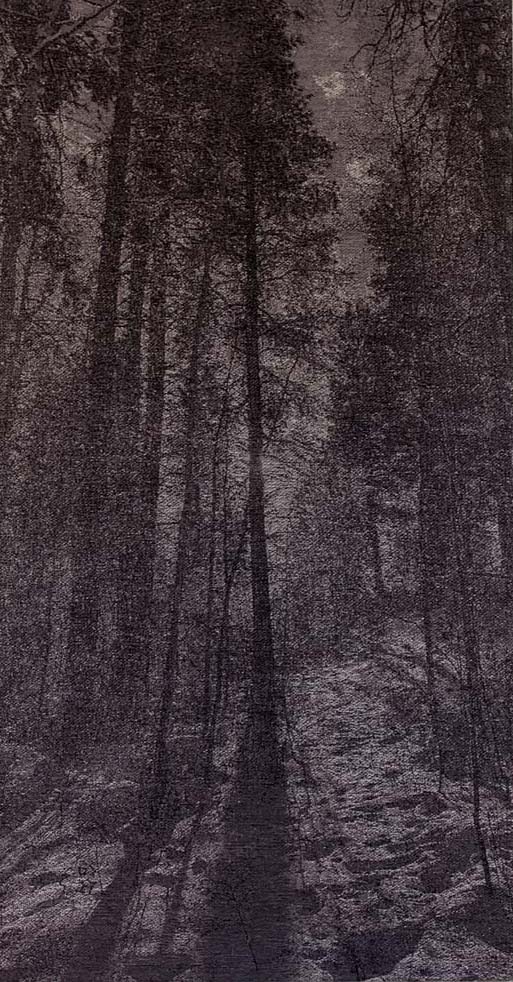 Rendezvous Grove (24" x 44 1/2")
I think the contrast of the reddish bark with the snow is really beautiful.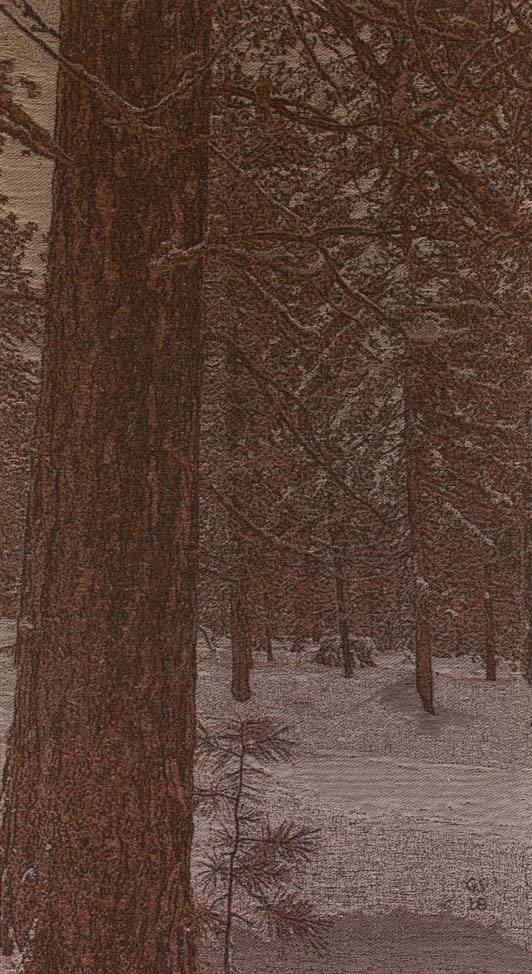 Pine Frost (23 1/4" x 35")
Some winters, you can see this amazing frost accumulation on everything in the Methow Valley.